Defensive Structures
(2009-)

Visual archive
Photography
Micro-short films
Orford Ness, Suffolk, 2014.
This is a selection from my visual archive of buildings and objects in sites of former military presence.
As nature slowly reclaims these places they develop an other worldly quality, already often with unusual topography, additional earthworks and curious structures.
I loved visiting historical castles and forts as a child, and memories of these trips are set against the backdrop of my father's long career as a civil engineer, working on national and regional infrastructure, while his father before him was a Clerk of Works. A familial association with the moving of the earth that casts a glow of circularity to my enduring fascination.
In subsequent years however, when I took my own children to visit those castles and forts, I pondered on how it seemed that all of our land's best hills and promontories had long been taken. If not by the landed classes or the church, then in the name of defence.
This fed into an increasing awareness on my travels around the south and east of England of the huge tracts of Ministry of Defence (MoD) land that still persist. This awareness probably started with my regular journeys along the M3 motorway, through a corridor of such land at the border of Surrey and Hampshire. As I write this I check Google Maps, which in satellite mode does indeed show this land, yet makes no reference to it, only to its many neighbouring golf clubs.
This and other vaste swathes of MoD land across the country - often important high ground, heathland and strips of coastline - not only get barely a mention on our maps, but never seem to be subject to any form of public scrutiny1, as in why do you still need all this land? On the ground the first and only thing you'll know about this land is when you come across a danger sign and barbed wire fencing.
There are times when military land is released back into the public domain, and that's how access to most of the sites in these images was gained. Many of them are associated with WWII or the Cold War, although they may have originally been built earlier. I have not included their stories, which are easily googleable, and in many cases still mutable. Also, while much of the archive is of sites in England, it starts in Berlin with my visit of 2009, which crystallised the inception of this collection.
I have dated the works because in some cases the sites have since become inaccessible again, either through Covid safety concerns or because they have now changed ownership. As you scroll down, just linger over the still images as they are slideshows.
Tempelhof airport, Berlin, 2009.
Tempelhof, 2020.
Former US field station, Teufelsberg, Berlin, 2017.

Pieces of Berlin Wall for sale, Sussex, 2019.
My Berlin Wall memento, 1989.
Sea fort, Grain, Kent, 2014.
Redoubt, Dover, Kent, 2019.

Fort, Dartmouth, Devon, 2021.


Hangar, RAF Hullavington, Wiltshire, 2015.
Former military testing site, Orford Ness, Suffolk, 2014.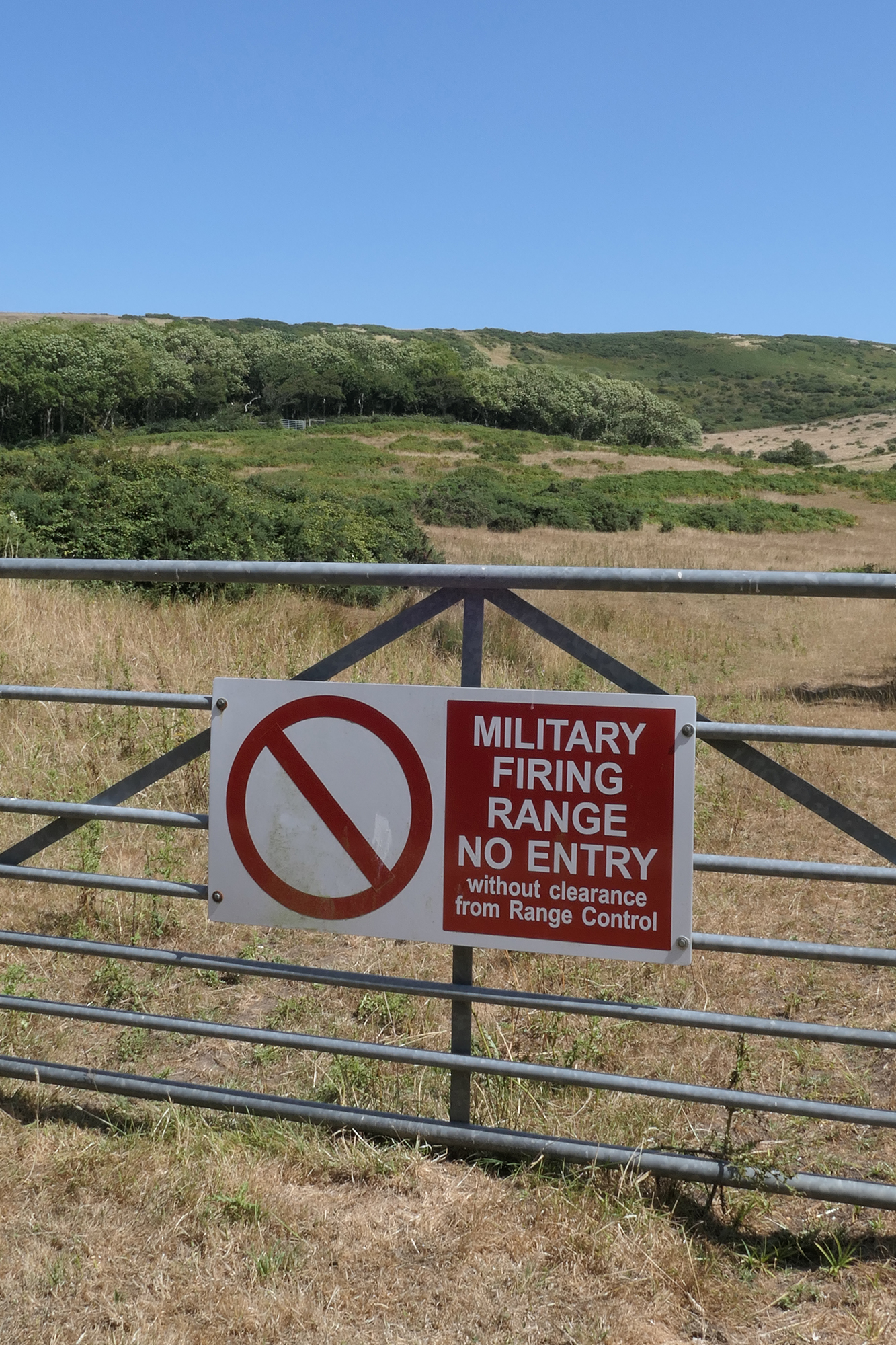 Tyneham Village, Dorset, requisitioned for military training, 2018.


Sound mirrors, Denge, Kent, 2014.
Sound mirror, Abbot's Cliff, Kent, 2019.

Anti-tank obstacles, Grain, Kent, 2019.
1 The MoD is said to own some 750,000 acres, making them the second biggest UK landowner after the Forestry Commission. The exact nature of ownership of MoD land (titles, leases etc) is missing from the Land Registry and remains opaque.

whoownsengland.com

Berlin notes: The 2009 pictures of Tempelhof were taken shortly after its permanent closure as an airport. In 2010 the airfield became a city park, and then in 2015 an emergency refugee centre as well. The latter can be seen to the right in front of the airport buildings, which are now closed off. Teufelsberg was built on a man-made hill and has been privately-owned since the 90s. After aborted attempts to develop it, its fate is still uncertain. The pieces of Berlin Wall sold in 2019 at a UK auction house for £17,000.
Picture credits: still and moving imagery by D Hartley and myself; drone pilot G Hartley.